Not: Figürlerin, Tabloların ve Formüllerin daha yüksek çözünürlüklü görüntüleri için görsele sağ tıklayıp "resmi yeni sekmede aç" seçeneğini seçiniz
16th International Symposium on Environmental Issues and Waste Management in Energy and Mineral Production, Istanbul, Turkey. 5-7 October 2016
SWEMP2016-29
Yıldız, T.D.1, Samsunlu, A.2, Kural, O.3
1Mining and Mineral Processing Engineering Department, Adana Science and Technology University, Adana, Turkey
2Environmental Engineering Department, Istanbul Technical University, Istanbul, Turkey
3Mining Engineering Department, Istanbul Technical University, Istanbul, Turkey
Abstract—Istanbul has hosted various civilizationsand its population has been growing. This population and population growth have brought industrialization. Important steps made for energy supply and because of this, Silahtarağa Plant was established. The coal, that needed for the plant were obtained from Ağaçli area which is close to the region. Extracted coal from there has been moved to Silahtarağa Plant with the railway line that built specifically, during World War I. Coal supply for this plant has continued until 1983, the date that plant was closed. The same coal that extracted from Ağaçli region for many years has been used in Istanbul, especially for house heating. Usage of the Ağaçli region coals in urban heating has been abandoned because of the air pollution after the introduction of natural gas in 1992.
In the process of the continuation, because of the idea of available spaces can not answer a growing population and increasing air traffic of Istanbul, 3rd Airport has been planned to cover mining sites in the form of abandoned or activated areas in Ağaçli and it's around.
Although Ağaçli open pit coal mining enterprises operating in the area tried to rehabilitate these areas, compliance with the land use plan of abandoned mine sites and the city plan could not be achieved enough in the presence of deficiencies in legislation.
In this paper, after mining capacity of Ağaçli site and the change of given coals to Istanbul from Silahtarağa Plant has been described, the urban development; rehabilitation of Ağaçli and the last situation of it, is going to be evaluated after the 3rd Airport decision.
Keywords: Mining, environment, urban development and plans
1. Introduction
With the impact of modernization steps, significant changes have occurred in Istanbul's physical infrastructure since the beginning of the 20th century. The most important of these
changes is the implementation of using electricity that the European cities were used in their Daily life for 20 years, in Istanbul, 1910. Electricity has been given to Istanbul with the Silahtarağa Power Plant which was established in this respect. The coal for the Plant was supplied by Ağaçli region for many years. The coal that produced in Istanbul, northwest of the city and wooded area are between Kilyos-Karaburun known as "Ağaçli coal". (For this reason; Kilyos-Karaburun coals mostly preferred to be called as "Ağaçli" in this paper).
Especially after World War I, the Ağaçli coal site was providing all the fuel needed for Istanbul actively. However, over the years by a growing population, coals and other fuels resulting from the use of urban warming has brought air pollution. In this regard, in order to eliminate air pollution by decreasing pollution level according to the criterion under the standards prescribed by the legislation, heating of Istanbul was preferred to switch to natural gas.
On the other hand, since the region Silahtarağa Santral was established includes the largest industries in Turkey, with some factors which result in growth its ratio to 23 % of Turkey's Gross National Product and 53% of exports, population of the city has continued to grow rapidly and this has brought urbanization with it.
Besides the increasing growth of Istanbul the increasing number of tourists, made the number of domestic and international flights increase steadily in parallel, so the existing airports in Istanbul have become inadequate in the course of time everyday. As a result of this, there was a need to establish 3rd Airport that has a greater capacity in Istanbul. In this regard, 3rd Airport has been planned to establish in a large area to the North of Istanbul. A part of the coal area around Ağaçli and its neighbourhoods, which the production is over and being tried to rehabilitate, today remains in the airport region which is planning to build.
2. Istanbul City and Its Development
The surface area of Istanbul is about 5313 km2. Istanbul's population growth and industrialization resulting from urbanization has brought many problems with it. Urban planning studies have been made in order to ensuresustainability between natural resources and human communities.
The city of Istanbul, as a centuries-old settlement, have put its best efforts to plan and use as sustainable natural resources at upper scale city plans, after rapid growing population in the latest years and industrialization.
Thus, in our country the implementation of planned development policies and improvement of production has an important place in the development of the targeted mining sector since the 60s. Mineral and energy resources where located in the Istanbul metropolitan area, are aimed to provide the highest level and effective use. Mineral resources assessed under the "protected mines and quarries" in the Istanbul Provincial Environment Plan (Figure 5). The production of these resources was anticipated in sustainable development. (Please refer to mineral resources situated in Istanbul [1] and [2]).
For decades the municipal zoning area is expanded continuously parallel to the rapid urbanization in Istanbul. Therefore existing mining areas gradually began to take place near residences in the cities.
2.1 The location and population growth in historical perspective of Istanbul
Istanbul has hosted various civilizations and it has 8500 years history. Before Turkish Republic, known civilization ceased to exist in Istanbul are Byzantine (Eastern Roman) Empire and Ottoman Empire.
The population of Istanbul and spatial development was restricted from the establishment of the republic to 1950s. The population of the city has begun to change with remarkablespeed in 1950s. "Spatial development of the city" depending on population growth in a time period of more than a thousand years is shown in Figure 1.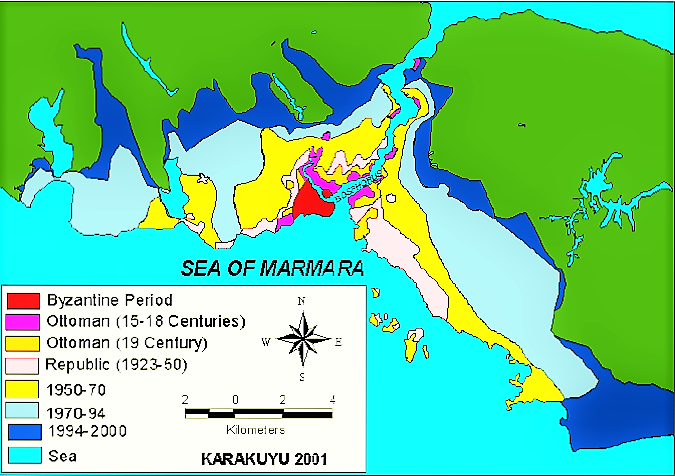 Figure 1. Spatial development of Istanbul [3]
According to 2015 census datas, Istanbul has 18.6% of Turkey's population with 14 million 657 thousand 434 people and it is the province with the most populous of the country (Figure 2).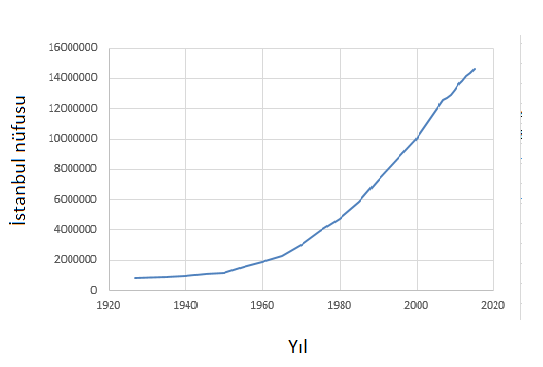 Figure 2. Fluctuation graph of population of Istanbul
Migration and unavoidable unplanned squatter which are the most important causes of population growth in Istanbul began in the 1950s and has been changing the format and structure in the period of time to present. Istanbul's share of the population of Turkey has more than doubled compared to 1970 with some additional factors that we couldn't specify in here (Figure 3).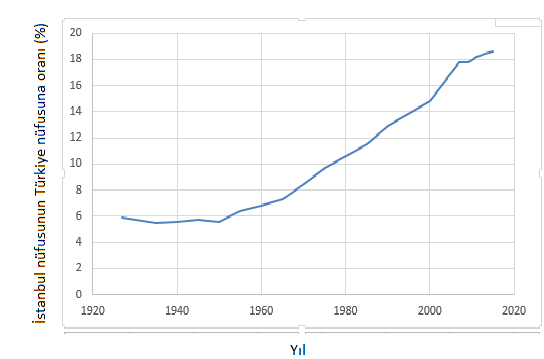 Figure 3. Share of population of Istanbul
Istanbul has continued its development in the form of spread and sprawl in the 2000s. The development has tended towards the forest and watersheds and it has entered into the city's life support systems with threatening severe (Figure 4).
areas are provided by the integration of this project (Figure 6).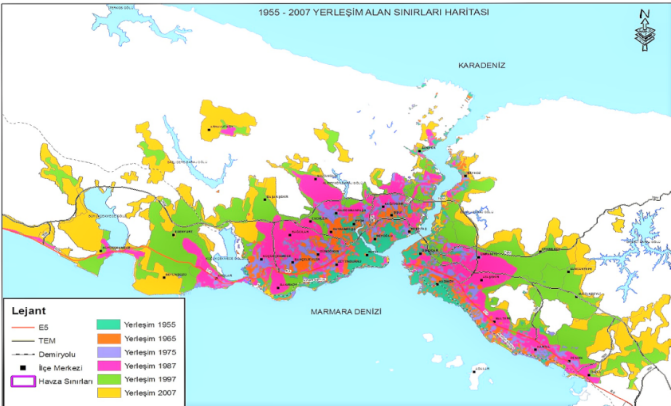 Figure 4. Settlement boundaries (1955-2007) [5]
The growing population of Istanbul Metropolitan Area has brought unhealthy and uncontrolled urban growth and also many important problems like the environment, transportation, housing shortages and squatters, physical and social infrastructure problems, vegetation and ecological, degradation depletion of natural resources. Planning studies have made in order to avoid this kind of problems in different periods.
This kind of plans has tried to prevent and reduce the pressure on the city by unplanned growth. In this regard, Istanbul's last "Environmental Organization Plan" in effect is has been accepted on 15.06.2009 with 1/100000 scale.
In Figure 5 with red color "absolute protection is required" and with the orange color "priority protection required" mining areas for Karaburun-Kilyos are shown. The Various mining areas are indicated in dark colors.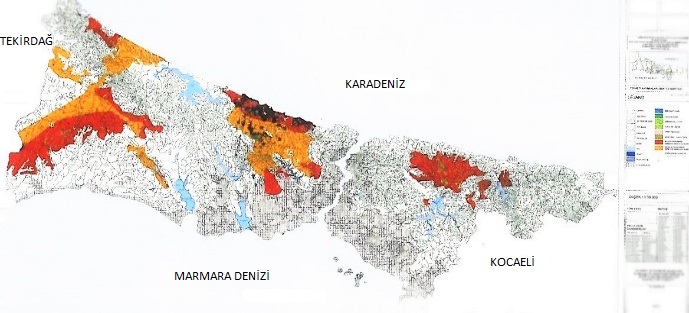 Figure 5. Istanbul province environmental plan and plan decision for protection of mineral resources [2]
As can be seen "To be protected Mines and Quarries" was envisaged as a sub study plan. This area was planned to be used as green area of Istanbul after these activities. But then, unlike these plans, 3rd Airport Project that covers a portion of Kilyos-Karaburun has envisaged after a new airport need for Istanbul.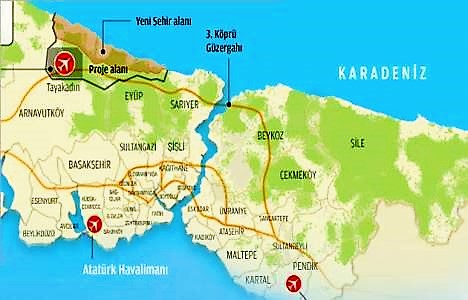 Figure 6. 3rd Airport project and beltway connection with the 3rd Bridge
3.1 Coal of Ağaçli region with its history and its role in the heating of Istanbul
Istanbul has used woods and coals for heating until the day natural gas consumption has come in 1992. Electricity has been used especially in the urban lighting and it has been produced many years by coals. Silahtarağa Plant was the locomotive of this production. Silahtarağa plant was the first power plant of the Ottoman Empire except the hydroelectric power plant where established near Tarsus in 1902. The use of electric was low in 1914, because the electricity investment in the Ottoman Empire was seen as a local issue. But, the plant that established as having similarities with the largest power plant of England
has not only used to provide lighting and heating from 1914 to 1983, it has led to the establishment of an industrial scale of Turkey in the city.
Kilyos-Karaburun Region has provided 80-90% of fuel needs in Istanbul more than 50 years and it has played a majorrole as an energy source in the most critical crisis of Istanbul, especially the oil crisis. In addition, illegal construction activities, treasury and the looting of public land has been prevented and has been provided a protection for forests due to coal production.
Indeed, if there hasn't produced Ağaçli region coals, 300000 hectares of forest would be destroyed to produce the equivalent energy of the people of Istanbul [2], according to a report in 1998.
3.1.1 Feeding coal to Silahtarağa in history
The history of Ağaçli coal mines is old. Mining activities have begun the end of the 1800s for the first time in this area. First coal production activities in this region have been made by the Germans in 1914. During this period, Ağaçli lignite coals could be used by mixing 1/3 Zonguldak coal according to
the Germans' examination and this coal field was seen as a solution on coal supply [7].
In this regard in 1914, Silahtarağa Power Plant has been established in Haliç, Kağıthane, Istanbul as a first city scale thermal power plant. This plant has been established in order to lighten the Dolmabahçe Palace – For the general electrification of Istanbul-, produced electricity was also used to operate the tram transportation.
Also, the operating ferries, military and private factories, warships and railways in Istanbul were working with the coals at that time. Part of the coal needs were provided from Zonguldak except Kilyos-Karaburun Region and the large part was provided by importing from England.
However, the coal needs of capital Istanbul and the navy could not provide because of World War I and imported coals could not be provided because of war. In contrast, coal production has fallen steadily. In these circumstances, it was decided to bring produced coals from Ağaçli to Silahtarağa by railway. 45 kilometer long railway line from Kağıthane to Ağaçli lignite coal mines has opened in 1915.
Ağaçli and Çiftalan coal mines were run by the military authorities since 1916, daily production has been increased up to 800 tons with underground operations. Production gradually decreased and stopped after the Armistice Agreement in 30 October 1918.
The railway line was a solution to the difficulty of Zonguldak coal transportation by sea route to Istanbul, but it was closed in 1920 because there was no longer needed after the war. The section between Kağıthane and Kemerburgaz stations has given to the military and it was used without interruption until 1956. But the line has been completely removed that year [7]. Today, "Revitalisation Project" is made some studies for bringing this line to the revival [8].
Partial production in Kilyos-Karaburun has been done by French and Etibank in World War II. It was decided to be done mining by the private mining companies in the Etibank fields since 1950.
The Ministry of Agriculture has encouraged people to use Ağaçli lignite coals as fuel for protecting the Belgrade Forest in 1956-1958. Because, 70% of people in Istanbul were using wood for heating, and these woods were obtained from trees illegally by villagers and again those were thrusted into the city illegally. Forests were disappearing rapidly because of illegal elections [9]. Production of Ağaçli coals in Istanbul were a great importance for preventing the destruction of forests and a large energy needs, which was a natural consequence of the city's growing population.
In particular, the license holders have managed to produce coals under very difficult conditions. The importance of domestic energy resource has been found after the oil crisis. Kerosene stoves replaced themselves with coal stoves and heating boilers with fuel oil replaced themselves with coal fired boilers.
Thus, large demand has saved the coal sector in agony point, following years it led to the quite high amount of increase
in production. Lignite coal production has increased 5 times from the oil crisis to 1993. Kilyos- Karaburun annual coal production has reached about 4.5 million tons in 1990s. As a reflection of this, the consumption share of coal was 26.5% and natural gas was 7.6% by 1993 [10]. But however, the consumption share of natural gas has increased 31% and imported coal share has increased 18% while the share of domestic coal has fallen to 11% of the data in 2013 [11]. Thus, Turkey's line has increased 5th with natural gas and 8th with (30 million tons) coal import [12]. Although, that same year, Turkey's lignite coal reserves have been estimated to be 14.2 billion tons, Turkey's proven lignite coal reserves estimated to be 8.4 billion tons in the World coal reserves (892 billion tons) by the World Energy Council statistics end of 2011 [13]. In recent years, thanks to exploration activities, this share increased in Turkey. After all, it hasn't been exploited this share shows the wrong orientation which causes approximately 74% in our dependance on foreign energy nowadays.
3.1.2 Situation of Ağaçli coals with the closing of Silahtarağa Power Plant
Zonguldak hard coals were used in the power plant as well as Kilyos-Karaburun coals. Firstly, coals have brought from Zonguldak to Kuruçeşme coal storages with the ships, where the sheet is discharged barge, barges have been towing with tugs to Haliç longitudinally, and the coal has been transferred to the dock where located on the southwest of the plant. However, a number of transportation problems have emerged in 1970s. The power plant has been closed in 1983 as a result of the disappearance of economic production [7].
Istanbul has consumed 500 thousand tons of wood, 1 million tons of coal, 380 thousand tons of fuel oil, 500 thousand tons of kerosene and 90 thousand kWh of electricity in the winter period of the year which the power plant was shut down (depending on 12.09.1983 dated Milliyet newspaper data). That shows the needs were increasing with the population growth. 80-90% of this requirement has been provided from Kilyos-Karaburun since 1950s. The annual coal production in the region has increased 8 million tons in 1980s. Even, the country's housing sector energy demand, that corresponded to 37.9% of the energy consumption in 1991 was provided with the 7.52 million tons of lignite coals production [10]. In spite of this, with the growing population it has begun to decrease since 1990s [2] and this was reflected in all parts of the country.
SO2 was one of the most important measures of air pollution in the measurement data made in Istanbul at thebeginning of the 1990s. While the average value of the standards prescribed in the city center with 24 hour measurements of 400 μg/m3, its value was measured significantly above (Figure 7), that showed the air pollution was at the highest boundaries. The air pollution which arise with the using of coals in Kilyos-Karaburun homes and supplying fuels was raised by especially natural gas, coal and oil importers.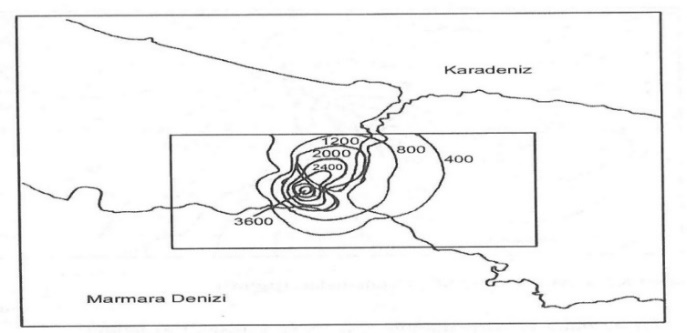 Figure 7. 24 hours SO2 averages in 18.01.1993 (μg/m3) [14]
On the other hand, the natural gas transition has increased in households since natural gas connection to houses in 1992, the coal quality has increased as well. As a consequence of these, measurements carried out in 1998, the standard SO2 concentration has fallen well below the specified value (Figure 8).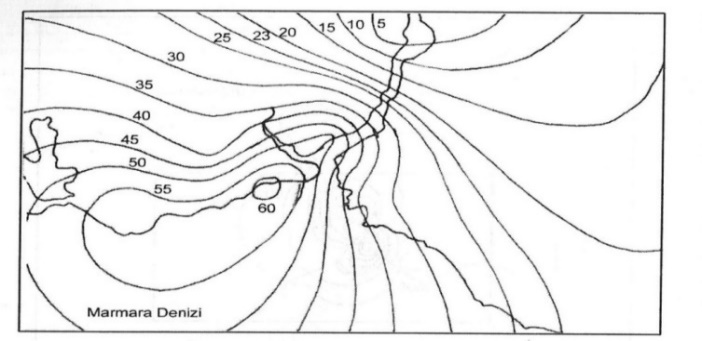 Figure 8. SO2 averages in 03.12.1998 (μg/m3) [14]
Thus, an average SO2 concentration of 219 μg/m3 in 1992 has fallen to 3 μg/m3 today. In this process, 95% natural gas has been used in domestic heating and industrial processes because of the widespreading the use of natural gas in Istanbul since 1992 [15]. Because of this, the usage of Kilyos-Karaburun coals have reduced in Istanbul urban heating and industry.
However, despite the increased usage of Ağaçli coals until 1990, air pollution in Istanbul was not as high as levels of measurement. In addition, 4-6% fuel oil with sulfur and No. 6. Petroleum have been used as a fuel in Istanbul especially since the 1990s and air pollution has intensified in Istanbul because of air quality measurements carried out in the city center. In spite of this, as mentioned years, domestic coals had been
declared responsible despite all these grounds. Natural gas usage has started in the centers of measurements and No. 6 petroleum used in the same centers. Because of these two solutions, air pollution removal has provided. Using coals in wrong burning systems, that is to say that people's wrong practices while using coal also have affected the air pollution. In addition, making transportation of coal during winter and not using standard chimney and boiler had caused air pollution [2] and [10].
To specify at this point, Kilyos-Karaburun lignite coals that alleged for higher share for air pollution has 1st grade quality
Original average properties of coal are as follows: Lower calorific value 2800-3600 Kcal/kg, humidity 30-37%, ash 5.25 %, volatiles 31 %, sulfur 1-2%. However, it is possible to reduce the sulfur emissions that is up to 39 %. On the other hand, calorific value of the coal can be increased 6400 kcal by washing, drying and after removing volatiles [2] and [10]. All these indicators show that Ağaçli coals that using in an urban heating have quality above average, compared to other coals in Turkey.
3.2 Previous-current statuses of the Ağaçli Region
3.2.1 Ağaçli's coal extraction area and rehabilitation of area
In our country wide, naked damaged areas are consisted by ending of the operation of the ore beds. Reorganization and improving of the area damaged by mining activities are carriedout in 4 main steps and: 1. Land use planning after mining, 2. Land use planning in line with the reorganization (excavation, casting, water regime control, dug up the top cover as a separate routing), 3. Improvement (biological reclamation), 4. Monitoring and maintenance [16].
Land use planning is needed to do after the open pit mining to minimize the inevitable environmental problems caused by mining, ensure the establishment of the balance between ecology-economy, and provide new application possibilities for the needs of the local community and that is part of the landscaping and improvement work starts with the planning of all mining operations and continues throughout the production. It could take years to fix the wrong actions in the land use and natural resource protection and it can create significant additional costs. Therefore, a land use plan without prepared in accordance technique is not appropriate to begin mining operations in the field.
"Environment" concept took part for the first time in the 1982 Constitution, article 56 and accordingly the Environmental Law No. 2872 in 1983 led to heightened sensitivity to environmental issues in all over the country.
Continue in parallel "Enviromental Impact Assessment" (EIA) connect with the miners have been published and have been amended several times in this regulation in subsequent years. In particular, the reorganization of the disturbed land mine planning in terms of the EIA process is a legal requirement that must be taken into account.
Accordance with 3213 numbered Mining Law which is put into effect in the 1985 and other regulations, miners were
identified a working method to minimize damage to the environment due to mining and reinstated measures have taken to deteriorated areas after mining. However, there was no provision in the legislation over many years of open pit production in the fields of reorganization and improvement. On the other hand, in 2010 by Law No. 5995 on amendments to the Mining Law of results each year with a mining license "guarantees compliance with environmental" in the deposit and landscaping costs would be paid from this deposit. This guarantee, compliance plan for the environment in operational projects; to be done to harmonize the environment includes the necessary technical procedures after the completion status and operational activities before the land.
Ağaçli region's regeneration raw materials and reforestation of the remaining region from the open pit coal mine work was initiated between 1988-1989 years [17]. However, studies in the area evaluated that excavation materials were not extract with plan, top cover soil was not protected because of mixing upside down of soil and planting work was carried out only in a limited area [18]. 100 meters depth in excess excavation pits resulting from the use of land reclamation has occurred and ponds formed [10].
On the other hand, up to 5 million units in approximately 600 hectares of large-scale afforestation were carried out in Ağaçli and around abandoned mines. The rehabilitation work has been done in only limited by thick vegetation and stabilization, studies such as groundwater regulation as yet [18], even if done enough, despite all these deficiencies to the environment than many other mine enterprises in Turkey is more sensitive rehabilitation work has been carried out in this region (Figure 9).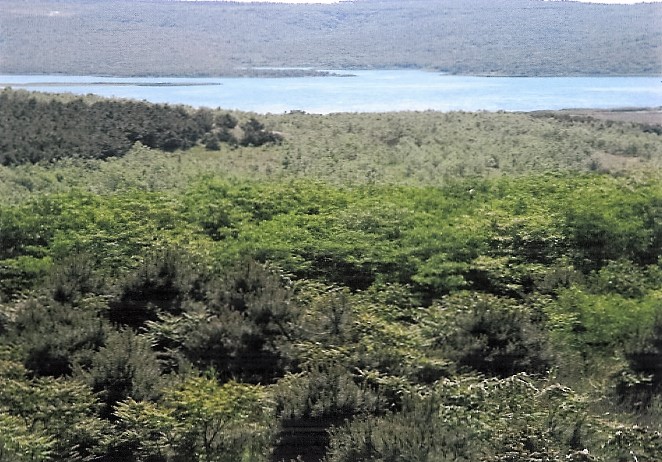 Figure 9. The reforestation area after the mining operations
[2]
3.2.1.1 Coal extraction field in Ağaçli region Kilyos-Karaburun coal region covers 36 kilometers of
coastline in Çatalca, Gaziosmanpasa, Eyup and Sariyer district boundaries and 26 thousand hectares. Coal thicknesses are up
to 3 meters in the area and it is available at lower levels of 1-2 meters stratifications. Clays, constitutes studies in places interbedded with coal exhibiting different characteristics.
The thickness of cover material on coal layer is varying between 20 to 100 m. This cover material were being excavated by construction machinery based on the mechanical and technical features of the field and loaded on dump trucks (As seen in the Figure 10, the excavated material is removed under the sand and clay).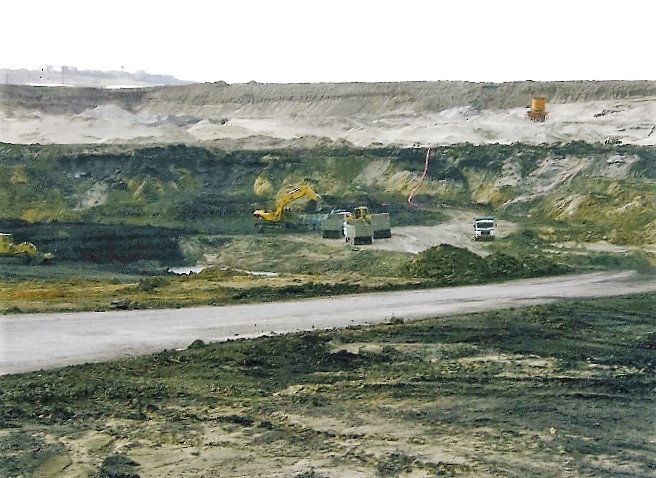 Figure 10. The excavated material under the sand and clay zone [2]
In order to obtain coal under the sea the gained material from the excavation mostly flows into the sea. In the result of cast to the sea in coastal landfills in Turkey has increased the surface area of approximately 110 km2 [10].
Figure 11 shows the operating licence in the sea. Moreover, this figure shows the forest area and watershed protection area intersection with the mining licence area in Istanbul.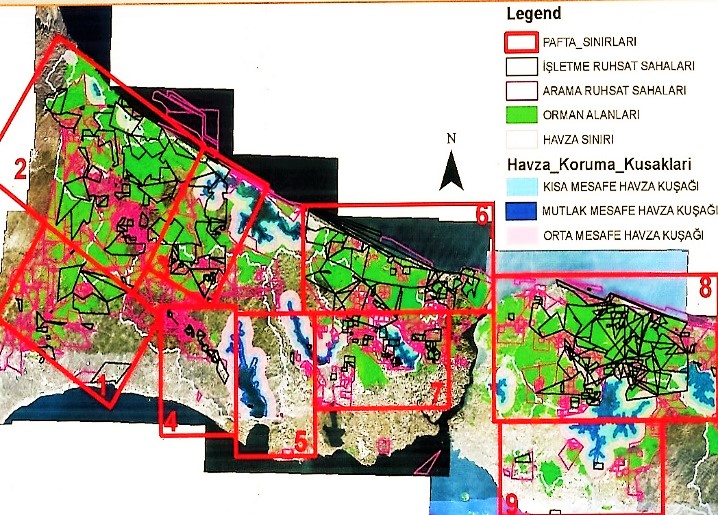 Figure 11. Mining licenses and forest areas in Istanbul [2]
In this figure, in the period from 1950 until 2009 in Istanbul; black colored frame shows (a total of 103540 hectares) operating licenses, purple colored frame shows (a total of
section shows the forest area.
Kilyos-Karaburun coal mines which is in no. 6 sheet said for approximately 60-years period 11% of the production in-sea, 89% overland production of 27725 hectares of operation was located in the license area. 31% (8652 hectares) of this area was/is mine production area, while the rest of the area (19072 hectares), the 69% isn't a mining production area yet [2].
"Production license ", which is necessary to perform mine operating activities, is taken by, first the reduction of proven the reserve area, so operating licenses are held by the narrowing of the field. Similarly the area received permission from the forest administration, except for the short and mid-range watershed protection zones, due to be held in areas where mining permit of Enviromental Impact Assessment, it can be allowed at the intersection of all this permit-required areas (Figure 12).
Figure 12. Simulated – intersection of all the permit-required areas
In this regard, as seen from the figure 13, Kilyos-Karaburun involved in the mining region were made/maintained in 60 years were 6050 hectares of forest area, the 2602 hectares were public land, privately owned or (removed from the forest area) "2b land".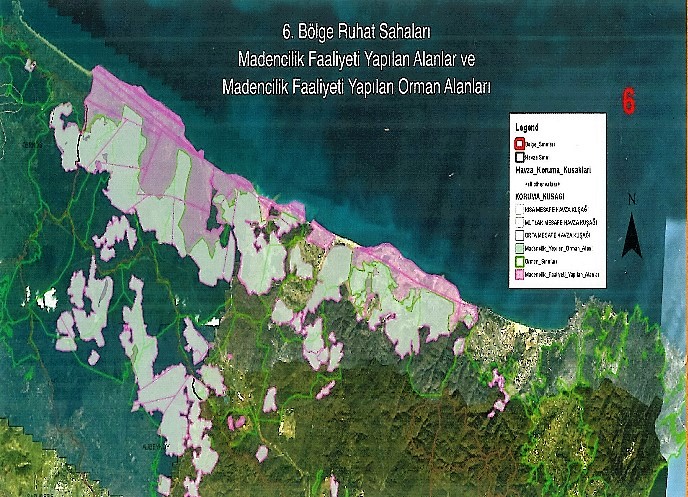 Figure 13. The forest area which inside the operated mining
[2]
In this figure shows the area of purple color is the operated mining area, the bright green area is the forest area which inside the operated mining [2].
Since 2009, the total area of mining mineral and forest permit issues made / maintained that field contained only 121 hectares. The 22 hectare property, 18 hectares of waste area and the operation area of 79-80 hectares were mining area [2].
3.2.1.2 Rehabilitation of the coal field in Ağaçli
At the end of the nearly 60-year period mentioned above, in mining activities carried out 6050 hectares of forest area, 98% (5929 hectares) have been returned to Istanbul General Directorate of Forestry.
The purple- color area in the figure 14 shows, the area which deliver to the General Directorate of Forestry after operated mining since 1950 years.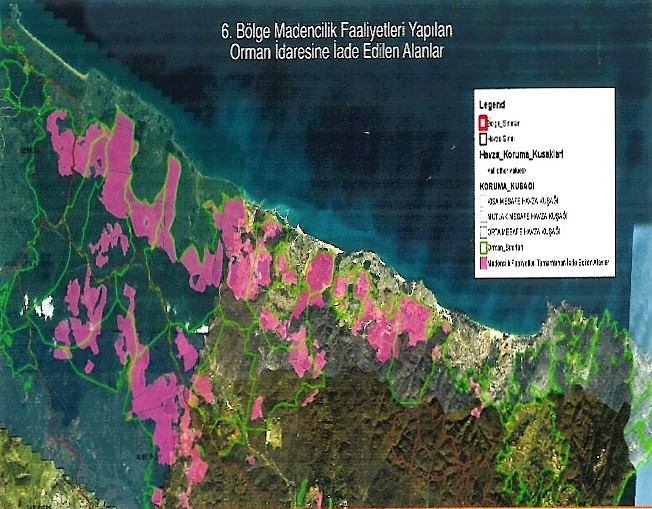 Figure 14. The operated mining area which deliver to the General Directorate of Forestry [2]
However, in this period, General Directorate of Forestry took the cost of afforestation from miners according by the legislation, but has not fulfill its responsibility of the refunded area for 22% of the plantation. Activities by miners, that are returned area (1123 hectares) revealed that 19% held private plantations. Rehabilitation of mining by the miners as it is expected to be confirmed by the General Directorate of Forestry, 6050 hectares of this area of 2301 hectares (39%) are also part of [2].
These data show miners of investors that tries to fulfill its responsibilities in a more informed manner compare to the Forestry Administration although despite lack legislation.
3.2.2 Urban activities at the Ağaçli Region
In a typical use planning process goes through the start with "identification" of the problem, "Framework Plan", "Master Plan" and "Design" helps with "Analysis – Evaluation – Synthesis" stages. However, this plan is quite different from the land use planning after open pit mining. In the areas of
planning to be done after open pit mining current assessment won't be made and all topography, land use planning, vegetation etc. ecological characteristics of those areas have changed as recreate, in general use planning is taken into account the existing natural and cultural values [16]. Thus, the more important one is to determine the best use of the potential of the land after the land renovation [18].
In this context; "The overall planning process and stages" considering the privileged status of mining, open pit mining can be adapted to the following land use planning. To identify the areas, firstly on the basis of which entered into a special ecological environment, whether with rare properties or other uses based on the surrounding area. In light of these definitions, it may be determined to use whichever of the four main groups in landscape or combination of them. User groups can be listed as: agriculture (field agriculture, horticulture, pastures etc.), forest (commercial and non-commercial, seedling productionsites), recreation (entertainment and recreational open spaces and green areas) and wild life, residential and industrial use [16].
Figure 15 shows that abandoned / will abandon mine sites and the environment in Ağaçli.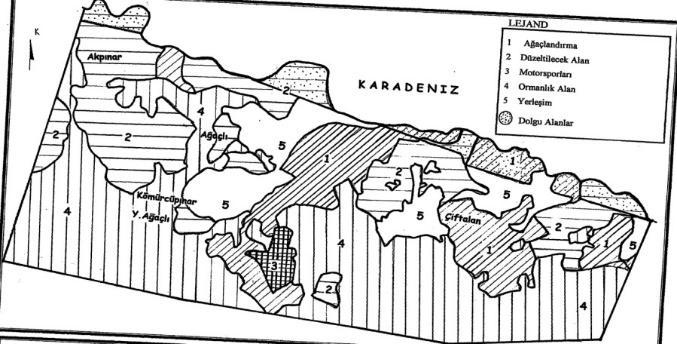 Figure 15. General state of the Ağaçli Region [1]
Here, 1. region shows that the "reforestation area", 2. region shows that "areas to be fixed", 3. region shows that "motor sport area", 4. region shows that "forested area", 5. region shows that "residential area" and a line drawn region shows that "fill area".
Alternative urban using models can be specified for Istanbul. In this thesis work Fanusçu emphasized that the most suitable alternative for urban use Ağaçli Region is "forest and wildlife" considering an irregular migration and urbanization as a result of the decreasing active and passive green space in Istanbul [1].
On the other hand, deteriorating the preferred land use zoning plan and local zoning plan for the land development plan must comply with the positional supportive. In the year of 1995, in 1/50000 Istanbul Metropolitan Area Sub-region
Master Plan, prepared master plan scenarios based on variations and causes of that plan scenarios "daily recreation" was projected to urban use in Ağaçli and it's environment. Later however, approving local zoning plan produced contrary to the master plan of the decision, similar to the introduction of the improvement plans and connect to Development Amnesty Law, the provision of development opportunities in private forests with changes to the forest law and all of these, "protection order" which is the illegal construction results in a master plan for this area -reasons by non-mining cases- causes to did not implement it through [1].
3.2.3 Istanbul's development through Ağaçli Region Ağaçli village and its vicinity in Istanbul, is located on the
Çatalca Peninsula in Eyup on the border in Istanbul, around it there are Çiftalan and Akpinar where are also include a number of mines. Today, according to 1/5000 scale Master Plan prepared for Ağaçli and its neighboring villages by Istanbul Metropolitan Municipality in order to preserve the natural characteristics of the villages and accordingly lower construction development model is foreseen. In accordance with this plan, according to 1/1000 scale Applications Master Plan prepared by Eyup Municipality, housings in this village will not be higher than doubled [8]. Ağaçli zone is planned to be established in the district under a new project. This project includes multi-storey plans with denser settlement around the town (Figure 16).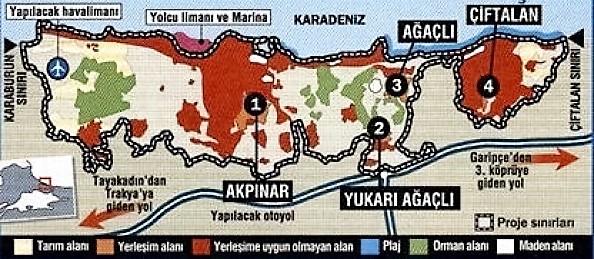 Figure 16. 4 new district on the European side of Istanbul [19]
The work area of the project which is detailed analysis is carried out by Istanbul Metropolitan Municipality is 33500 hectares, and, in the designated project area, 4 residental area; Yukarı Ağaçli, Çiftalan and Akpinar and Ağaçli village which is the center of the project will be built and it is envisaged that in this district more than 700 thousand people will reside in 40-50 storey apartment to be built. (Figure 16).
In these new settlements, airports, education and information-technology units, public use, universities, tourism, ports and marinas, active green space, recreative facilities, district parks, cemeteries, urban forest, cultural facilities, festival areas are expected to take place [19].
According to the project, the new city will also be aimed at providing integration with access 3rd airport and 3-highway bridge (Figure 16 sembolically shows only an airfield place).
3.2.4 3rd airport project and its effect to Ağaçli
1/100000 scale Environmental Master Plan Revision, 1/5000 scale Master Development Plan and 1/1000 scale Implementary Development Plan which are prepared for the 3rd airport project of Istanbul because of the belief that existing airports are not able to meet the needs with increasing population was approved on 27.06.2014. Third airport project is located between the Yeniköy and Akpinar villages on the European side of the Black Sea and it covers individual 6 tracks, the terminal building and many areas such as industry and trade (Figure 17).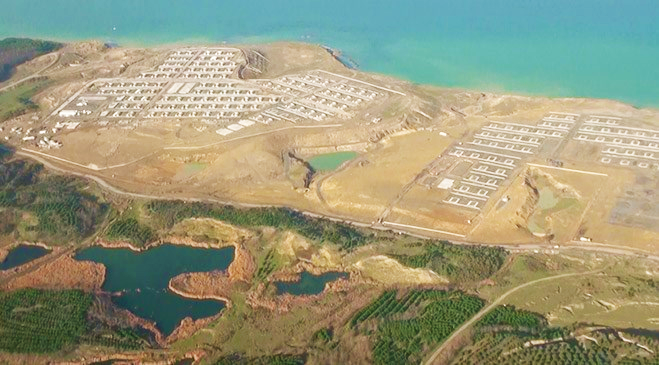 Figure 17. 3rd airport project area and a view of airport construction
The 3rd airport project area is about 7650 hectares. According to the land use of the project area, 6173 hectares of forest, 660 hectares of the lake area, 236 hectares of pasture, 60 hectares of dry farming, 2 hectares of heathland area, and of 189 hectares of land are private property. 1180 hectares of 2670.5 hectares licensed mining area in Kilyos-Karaburun registered to MIGEM remained within the project area with the airport project decisions [20] (Figure 18).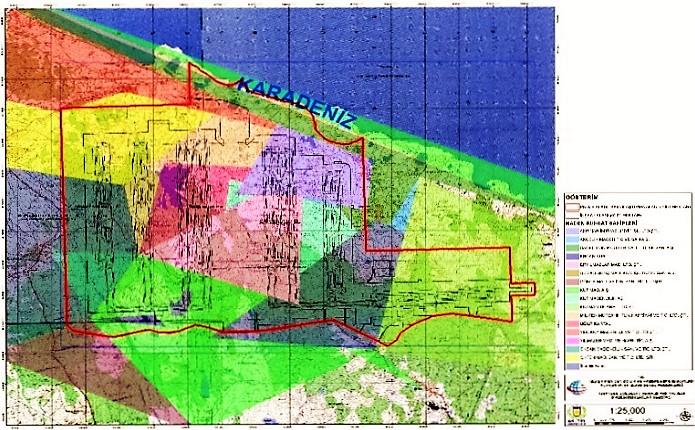 Figure 18. Mining license areas in 3rd airport project site [20]
Here are surrounded by a red line is the third airport project area. The areas are shown in different colors, different operating mining areas. As can be seen in the project area, atthe date of the project decision, several mining companies were carrying out mining activities in accordance with received permission from the Ministry of Energy and Natural Resources. However, due to the airport project reserves of totally 66 million tons of coal (29.5 million tons proven and 36.5 million tons of probable) and almost 100 million tons of sand with millions tons of ceramic clay have been faced left abandoned [2].
The project area consists of the remaining mines in the pit is filled with water over time as a result of the one willing to make a total of 66 lakes / pond still continues filling with excavation material [20]. By the end of 2016, 90% of the completion of filling and excavation process of the project; and in the first quarter of the 2018 landing of first flight to the third airport; and by 2040 whole airport construction; are targeted for completion.
That, a part of the prescriped area is not appropriate for ground and also flatting of large area consisting of potholes, lakes, and the whole changing topography will cost a lot, and most importantly reconstruction of the drop zone, in the north-west of Istanbul will cause the deterioration of balance of natural resources was voiced by many organizations. Some of them stated that previous plans of Istanbul Metropolitan Municipality would be more appropriate to conduct the project.
In the significant portion of the planned third airport area Arnavutköy Northern Forests are located (Figure 19).
Figure 19. Change of forest areas in Istanbul [21]

Cutting down of 658 thousand trees out of 2 million 513 thousand in the project area was foreseen. Also in the Enviromental Impact Assessment report, "The majority of the activities afforestation field" created by the abandoned mines has meant saying forested areas [20]. Indeed, thanks to the recover activities for nature in abandoned areas after mining, the region has gained back its natural structure, however, due to the envisaged location of the airport, it was decided to cut thousands of trees planted in rehabilitation work in the area.
4. Conclusions
Especially after the beginning of the 20th Century with increasing population in Istanbul, need of coal and electricity also rose in parallel. Thus, to meet this need coal mines in Ağaçli and its neighbourhood and Silahtarağa Electric Santral increased its production together for decades, on the other hand also at almost the same years they decreased their productivity. So, after nearly a century, of industrial heritage, Trainline and Silahtarağa Santral, with Ağaçli area coal show that they are the most important factors for Istanbul's urban growth and the basis of Turkey's development.
After Silahtarağa Electric Santral's closure and being abandoned Ağaçli coals and prefer of natural gas usage not only in houses but also in the industry, our dependence on foreign energy reached the stage line.
Although miner investors operating in coal production in the Ağaçli area, contribute to restore the natural structure of the area with a tree planting activities across Turkey, with deficiencies in legislation, rehabilitation plan coherent with urban planning couldn't be implemented.
Additionally, there is also the situation of a prevision of the 3rd Airport to meet to the needs of an increasing population and then remaining on a part of the mining area around Kilyos-Karaburun including Ağaçli in the airport area.
While land use in Ağaçli and its surroundings is not planned by the competent authorities of planning, mines have completed a part of the rehabilitation of the site, in accordance
SWEMP2016-29
with permission received from the Ministry about the part is still conducting operation activities, is the airport project as a new plan was expected later in this field. Regardless of our country's dependency on energy and other metals to the outside, revealed a result of this coal and other mineral reserves valued of tens of billions of Turkish lira in size will be abandoned under ground in the mentioned region and mentioned mineral reserve areas and airport project could not be integrated with each other in Istanbul.
References
E.M. Fanusçu, (1999), Possibilities of The Using of Degraded Area in Terms of The Use of Urban Areas (Example of Istanbul Ağaçli Region Open Pit Mine Area), Istanbul University, PhD thesis, p. 254.
Platform of Mining, (2009), MİLTEM, p. 142.
Karakuyu, M., (2006), Analysis of Spatial Development in Istanbul. 4. GIS Days of Proceedings, Istanbul pp. 207-214.
İ. Taşdemir and F. Batuk, (2009), Investigation on the Socio-Economic Change of Strait Crossing on Istanbul on the GIS media, Ankara. p. 7.
A. Aksoy, F. Açıkbaş and A. Akman, (2009), Story of Silahtarağa Power Plant, Silahtarağa Power Plant: 1910-2004, Editor: Asu Aksoy, Istanbul, pp.1-61.
A. Akman and T.G. Köksal, (2009), How Did Silahtarağa Work? Silahtarağa Power Plant: 1910-2004, Editor: Asu Aksoy, İstanbul, pp. 63-77.
N. Avcı, (1996), Environmental Problems Caused by Lignite Operation in Istanbul Between Kilyos-Karaburun. Istanbul University Ms Thesis, p. 106.
Turkey Petroleum, (2015), Crude Oil and Natural Gas Sector Report. p. 56.
Turkey Coal Enterprises Corporation, (2015), Coal Sector Report (Lignite). p. 66.
F. Ertürk, (2004), Special Topics in Air Pollution. Environmental Sciences (Editor: Ahmet Samsunlu), Environmental Voluntary Association, Istanbul, p. 215-237.
Istanbul Provincial Directorate of Environment and Urbanism, (2015), Istanbul 2014 Environmental Status Report. p. 239.
N. Akpınar, D. Kara and E. Ünal, (1993), After the Open Pit Mining Land Use Planning. Turkey 13. Mining Congress, Ankara, pp. 327-340.
M.D. Kantarcı, (2005), Obtained Results of the Activities of Amendmend of Ağaçli (Istanbul) Open Mine Waste and Afforestation. Mining and Environment Symposium, 5-6 May 2005, Ankara. pp.173-181.
Ö.B. Seçkin and Ş.D. Yayım, (2005), Rehabilitation Facilities of Stone and Mine Pits (Examples of Istanbul Ağaçli Region Open Pit Mine Area) pp.1-9.
Republic of Turkey The Ministry of Transport and Maritime Communications General Directorate of Infrastructure Investments, (2013), Istanbul Region 3rd Airport EIA report, p. 238 + attachments.
Defense of North Forests, (2015), 3rd Airport Project in the face of Life, Nature, Environment, Human and Law. Istanbul, p. 101.